What Remains: The Nova Scotia Industrial Project
The legacy of the Industrial Age is frequently met with mixed feelings. On the one hand, industrialization gave us the standard of living we enjoy today; easing our labours to the point that it changed the nature of our work and leisure worlds.
On the other hand, industrialization is also the source of significant damage to our environment, creating patterns of consumption that we cannot safely sustain.
As we move towards the challenges that lay ahead, away from a time when our economy and society were almost exclusively shaped by industrial development, we have to ask ourselves:
How can we learn from the past to better prepare for our future?
This question is at the heart of What Remains: The Nova Scotia Industrial Project, a collaborative exhibit created by photographer Eliot Wright, jeweler and metalsmith Liz van Allen, and the Museum of Industry.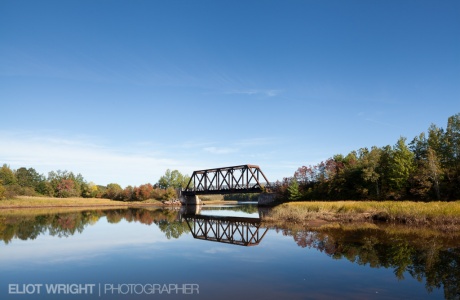 An exploration of industrial archaeology through art and artifacts, What Remains documents and interprets remnants of our industrial age – the structures, raw materials, and landscapes of manufacturing that still survive today.
Featuring photographs of industrial sites, jewelry crafted from materials found at those sites, and associated artifacts from the Museum's collection, the exhibit navigates our complicated relationship with our industrial history using both traditional and non-traditional forms of interpretation.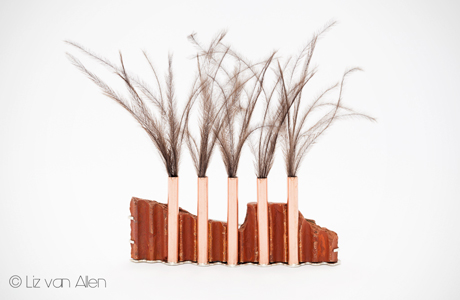 Forge (Ostrich Feather, Sterling Silver, Copper, Steel, Found Brick), Liz van Allen
What Remains first began taking form when Wright and van Allen approached museum staff with the concept. Instantly drawn to the project's unique take on themes such as industry, progress, decline, and decay, the Museum of Industry readily agreed to the endeavour and a partnership was born.
Throughout 2013, the artists toured Nova Scotia's industrial heartland, visiting numerous operational and abandoned sites to photograph the landscape, collect remnants and gather inspiration. The result of their expedition is an intimate close-up of several important industries, including mineral extraction and refinement, steel production, and textiles.
It is interesting to note that some of the chosen sites have changed dramatically in the year since they were photographed. This demonstration of just how rapidly evidence of our industrial past is disappearing makes What Remains all the more poignant.
Adding further to the exhibit's significance is the working relationship that developed between the artists and the Museum. Typically, there is a divide between the forms of creative expression that we consider "culture", and the preservation and interpretation of artifacts by museums, which is often categorized as "heritage". 
In reality, our culture – how we express ourselves and who we are as a people – is inextricably tied to our heritage – the story of our shared experiences and the history that has shaped both who we are as a people, and the world we see around us.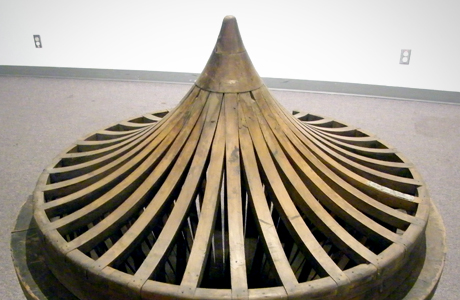 Foundry Pattern, Sydney Steel, Museum of Industry, I91.124.26
By combining the Museum's objectives to preserve, document and interpret with the exhibition of creative works by members of Nova Scotia's artistic community, What Remains helps audiences understand where we have come from, and serves as a springboard for discussions about the world around us.
What Remains is presented as part of the Museum of Industry's Community Conversations program, which recognizes the extraordinary potential for interaction between specific exhibits or programs and audiences. The exhibit achieves this by providing an opportunity for the visitor to explore industrial curiosities of our Nova Scotia landscape and to contemplate their value to us now and in the future.
Eliot Wright and Liz van Allen would like to acknowledge Arts Nova Scotia for providing tremendous support in the development and presentation of this exhibition.
As we move towards the challenges that lay ahead, we have to ask ourselves: How can we learn from the past to better prepare for our future?